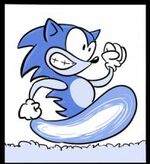 Sonic the Hedgehog is a frequently recurring character in Brawl in the Family, first appearing in 061 Olympics.
Most likely due to originally being created to compete with Nintendo, Sonic and friends often star in some of the strangest strips (though this is all in good fun.)
Character Appearances
Edit
061 - Olympics
091 - Old Sonic
141 - Blue Bomber vs. Blue Blur
190 - Where's Waluigi?
215 - Classic Sonic
227 - Brawl Party: Meta Knight
239 - Sonic Watches TV
295 - Happiest Place on Earth
354 - Animals
389 - Resolutions
441 - Tails
487 - Sonic's Eyes
495 - Comic Review: E3 2013
517 - Rock or Roll
540 - Frequent Flyer Miles
544 - Sochi
551 - New Stage
597 - Meet Me at Final Destination (Part 3)
598 - Meet Me at Final Destination (Part 4)