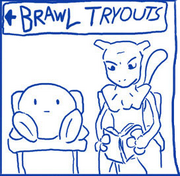 Mewtwo is the 18th comic posted on Brawl in the Family. Kirby and Mewtwo are sitting in a waiting room to try out for Super Smash Bros. Brawl. However, Kirby gets hungry and eats Mewtwo, causing someone else to take its place.
Date: May 18, 2008
Number of frames: 3
First Appearances
Edit
Transcript
Edit
Title text: 018 - Mewtwo
(Kirby and Mewtwo are sitting in a waiting room, a sign labeled "Brawl Tryouts" sits above them. Kirby's stomach rumbles. Kirby then looks visibly swollen in the next panel, and Mewtwo is gone.)
Lucario: Hey, an empty seat!
Fun Facts
Edit
Explanations
Edit
This comic is a reference to the fact that Mewtwo was in Super Smash Bros. Melee, but not in Brawl, with Lucario seemingly taking its place.
This is one of the few, if only, times Kirby has eaten someone and not taken on a Copy Ability from it.
Ad blocker interference detected!
Wikia is a free-to-use site that makes money from advertising. We have a modified experience for viewers using ad blockers

Wikia is not accessible if you've made further modifications. Remove the custom ad blocker rule(s) and the page will load as expected.