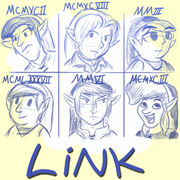 Link is a character that appears mainly in the Legend of Zelda series. Throughout the games, he has had many different styles, but he always sports a green outfit with a matching hat.
The weapons Link carries are extremely useful to him. However, he rarely talks, and appears to be a bit dimwitted in the comics.
Brawl in the Family Character Description
Edit
Ever the quiet, vigilant hero (unlike his many fairy partners he's become associated with), Link is guilty of being at least six or seven different people. Either way, you can expect him to be silent (except the CD-i one), dignified (except the CD-i one), and energetic […].
List of Comics appeared in
Edit
031-Recorder
045-Treasure
059-Assist Trophy
073-Awakening
097-Back and Forth
101-ForsakenFortress
109-Aged
121-Song of Time
126-Lens of Truth
149-Hero
150-Comic Strip
167-Mountain Cracks
181-Boomerang
190-Where's Waluigi?
191-Waluigi Trilogy
022-Wario and Waluigi Play The Legend of Zelda
211-'Hoy,Small Fry
218-Pots
240-Comic Review: The Wind Waker
250-Cartoons
251-Finaly
279-Two Birds
285-Yarn Meetings
302-Taking Aim
Ad blocker interference detected!
Wikia is a free-to-use site that makes money from advertising. We have a modified experience for viewers using ad blockers

Wikia is not accessible if you've made further modifications. Remove the custom ad blocker rule(s) and the page will load as expected.