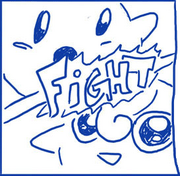 Jigglypuff is the 9th comic posted on Brawl in the Family. It depicts Kirby and Jigglypuff starting to have a Brawl, but Kirby wants to be friends instead.
Date: May 9, 2008
Number of frames: 3
First Appearances
Edit
Transcript
Edit
Title text: 009 - Jigglypuff
Announcer: FIGHT!
(Kirby and Jigglypuff stare at each other, then Kirby offers her a flower.)
Fun Facts
Edit
This comic depicts the start of Kirby and Jigglypuff's relationship.
Jigglypuff has worn the flower Kirby gives her here in most of her other appearances.
Ad blocker interference detected!
Wikia is a free-to-use site that makes money from advertising. We have a modified experience for viewers using ad blockers

Wikia is not accessible if you've made further modifications. Remove the custom ad blocker rule(s) and the page will load as expected.